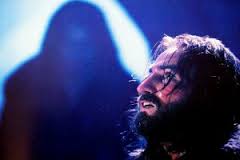 In today's Gospel, Jesus speaks to the Apostles before His death:
"I will no longer speak much with you, for the ruler of the world is coming. He has no power over me, but the world must know that I love the Father." (John 14:30)
I noticed that the Greek doesn't actually have the word power (dunamis) as the English translations do. So, I'm going to give you my literal translation of that line from today's Gospel:
"The ruler of the world comes and he has nothing on me, but so that the world might know that I love the Father…(this I do.)" (John 14:30-31)
Yes, Jesus literally says of Satan in today's Gospel in Greek:
He's got nothing on me.
Besides being awesome, this shows that the devil does not have the power to crucify Jesus. Rather, Jesus goes to the cross of his own accord at the occasion of creatures' rebellion but ultimately to show the world His own love of the Father, the will of the Father, the decree of the Father that Jesus can drink this cup of suffering (and others' sin) all to engulf the spirit of death into the divinity of the Trinity by letting the spirit of death, for a very short time, engulf the sacred humanity of Jesus.
Jesus is always in control. That's why the devil's got nothing on him. So also in our sufferings, as long as we suffer with Jesus.